I enjoy finding others looking for beauty and encouraging our walk with the Lord. When I find that person, whether on a blog or in life, I just want to spend time with them and refresh one another.
Linda@Truthful Tidbits
has a lovely and encouraging blog; where I found this gem of poetry :)
She has another about
Childhood
that I really enjoyed as well.
(but you'll have to stop by her lovely blog for that one!)
Thank you Linda for sharing these beautiful words! (and permission to pass them on!)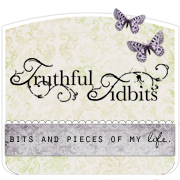 Walk a Mile in My Shoes ...Linda Hogeland…June 2011
Some people say…walk a mile in my shoes… before you judge me today
And before that walk you take in my shoes…please take a moment to pray
Before you reach out…to remove the small speck… that you see so clearly in mine…
Ask the Lord to help you… remove the big plank… that distorts your vision sometimes
As you walk in my shoes, and the obstacles fall, across your path at every turn
Take a moment to pray for some grace in your day…use it as an opportunity to learn
Learn to be thankful for all that you have… and don't covet what I might obtain
For the grass is not greener on this side of the fence…and my life has often held pain
If you jog… don't get blisters…cuz my shoes are quite small, and I can't afford to buy new
You may wish that you had not walked in my shoes at all…but the ones that fit better on you
And if I'd turn it around, it might just be found, that your shoes would be hard to fit too
So the mile that we walk, let's take time for a talk, and be friends and decide what to do
Life is harder than it seems… and we all lose our dreams… and a shoulder to lean on is nice
So next time you hear, "walk a mile in my shoes"…may I give you a little advice?
Have compassion and care…take the time just to share, and to listen to what others say
But first and foremost…don't ever boast…there's plenty more trials on the way
Yes, we all need to care…when we see such despair and we need to help where we can
There once was a King who walked under a cross…shouldering that burden for man
He took our place upon that old rugged cross as He hung there in sorrow and pain
Yes He died in our place for our sins and disgrace so that we could be free from the shame
Talk about walking a mile in our shoes…He forged on to Golgotha for me
And for us He endured all the things that He heard as they mocked Him as He hung on that tree
What a blessing it is that He walked in our shoes to the death that we all so deserved
From now on I will talk of that life giving walk…and try not to be so reserved
Lord…may I walk in their shoes… and give them Good News… that you lovingly gave to me
And like you… may I give of myself everyday…to all the burdened people I see!